Member of the Moment October 2023: Rachel Coleman-Hunt!
Having Rachel as a part of Team Limitless has been such a joy! Seeing her evolve as an athlete, witnessing her determination in her workouts, and being greeted by that kind smile each morning has added such a special element to the gym.
We are so grateful for you, Rachel, keep crushing it!
"Rachel has been a great addition to the Limitless family. More than just a consistent person, she's always smiling and working extremely hard for her goals."
– Coach Matt Meek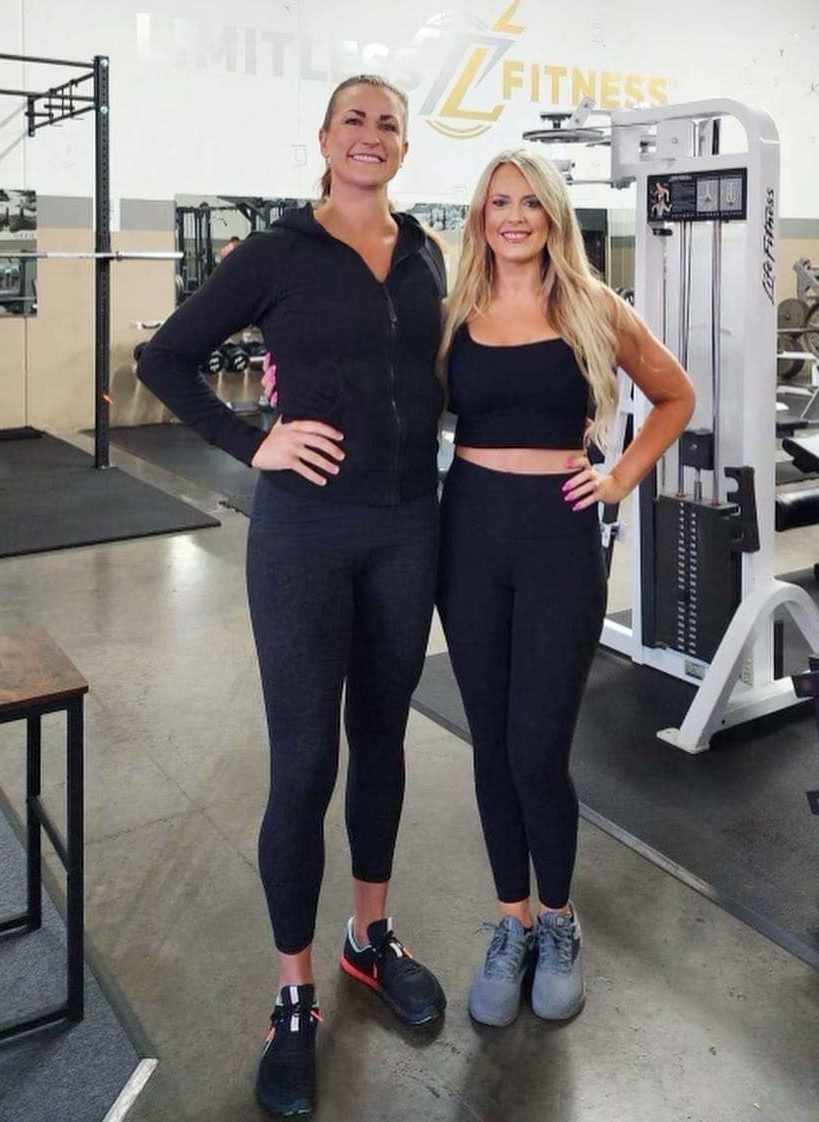 September Member of the Moment: Sammie Davis!
"Fitness is a very important part of my life. After having two children and with having major complications after my last birth, building my strength back was my biggest goal.
Since I started with Michelle, my strength, endurance and confidence has grown tremendously. Getting a solid workout clears your mind and gets you ready to tackle the day ahead.
A piece of advice I would give to anyone starting out in their fitness journey would be to never give up, don't be too hard on yourself, and just enjoy it and make it fun!"We're proud of you!
It's that time again!!!  Celebrating April's member of the moment, Sandy!!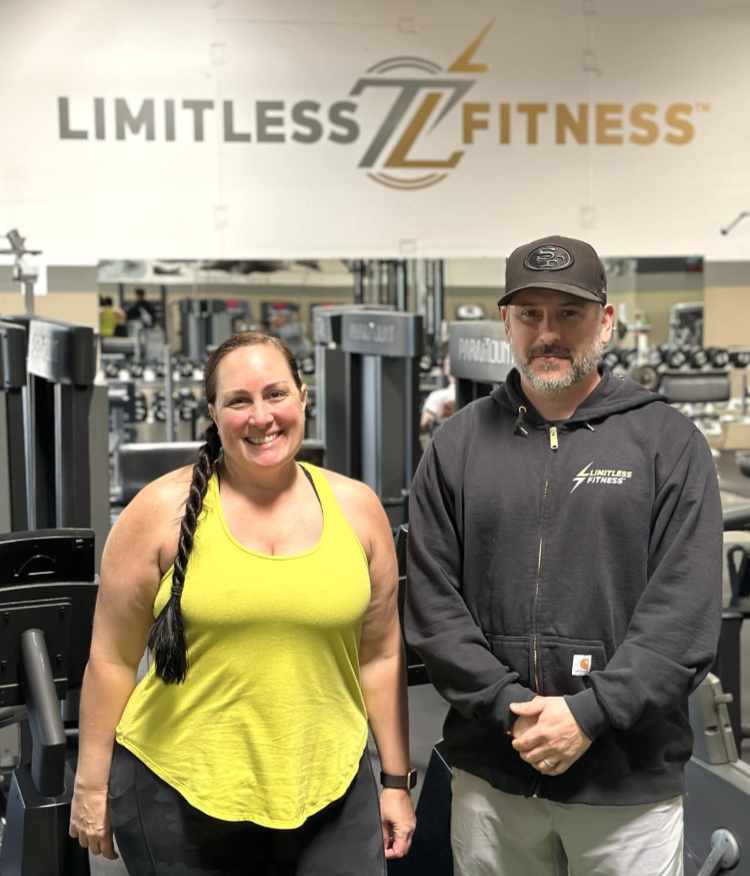 Says her coach Matt: "Sandy has been selected as my choice for member of the month because of her willingness to put in consistent work to reach her goals. I have had the pleasure of training her for a little over 6 months and seeing her progress is exciting.
Building new strength and improving mobility is an exciting process to see unfold. I am looking forward to seeing how far she can go. When we are willing to be uncomfortable for a short time we can truly become Limitless."
And from Sandy: "training with Matt has greatly improved my physical and mental well-being. I have recently entered menopause, and this has presented multiple physical and mental challenges. Training with Matt is absolutely helping with this life transition. The workouts help with my strength, stamina, and metal clarity."
It's that time again!!! October's Member of the Moment is Mr. Dave DeVogelaere!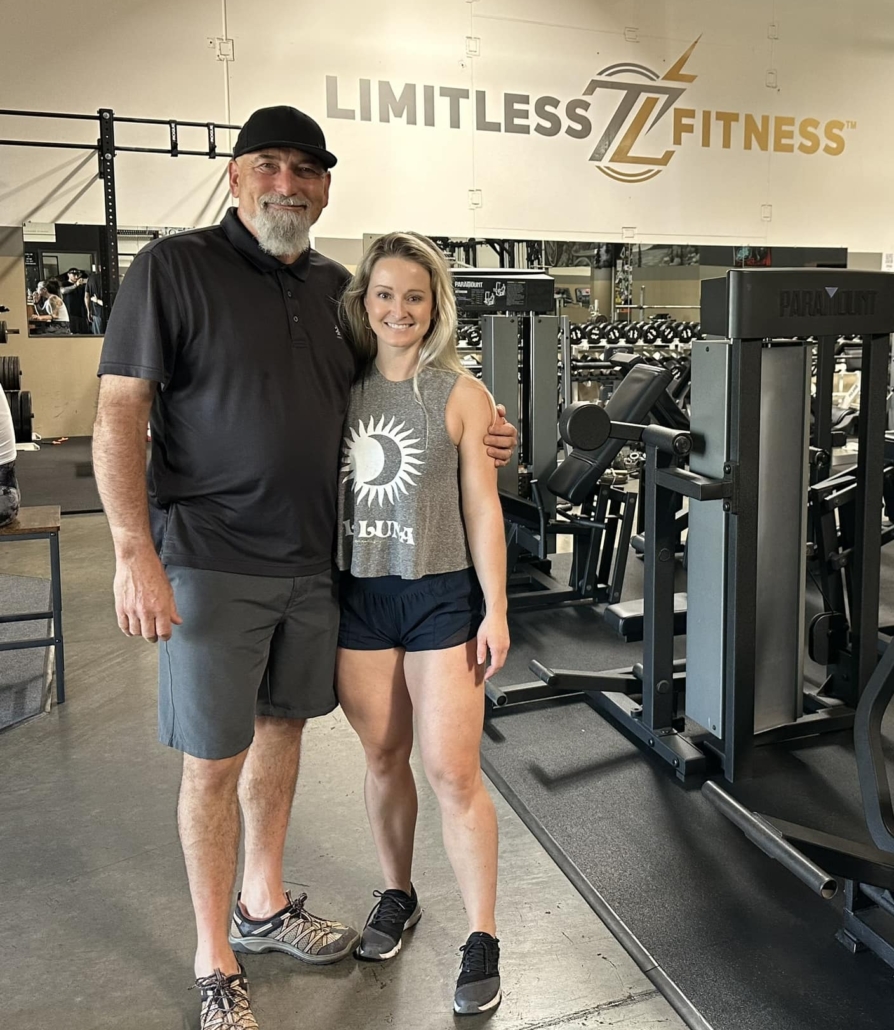 Dave has been a dedicated member of this space for 10 years. When we took the business over in 2020, he stayed, and we couldn't be more grateful!!! He has offered advice and non-stop support and encouragement. As a retired first responder, he has served his community proudly and loves Nevada County as much as we do! He also tries to lift others around him, with helpful tips and an ear to lend. He has a sense of humor that's contagious, he works hard, and speaks so highly of his family. He's our kind of guy! Way to go, Dave!
"Limitless Fitness is my happy place. I have been a member at this gym for over 10 years. Since Matt and Courtney have taken over, they have transformed this gym into a "First Class" fitness center. Both Matt and Courtney along with the experienced training staff know what it takes to meet your fitness and well being needs. I am very proud to be part of this Fitness Center! Advice for first time fitness enthusiasts: Use it, or Lose it!! – Dave D."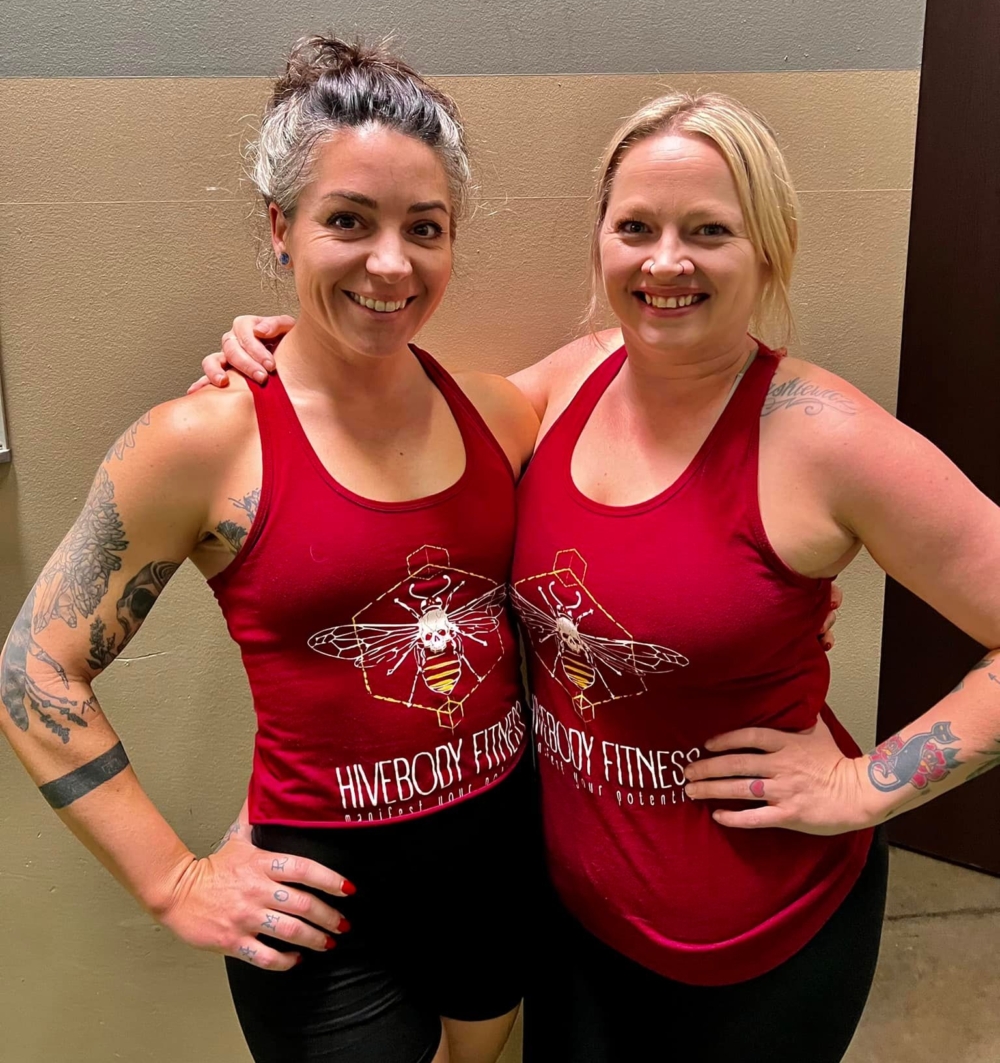 Member of the Moment for August 2022 – Jennifer Statham

Member of the Month time at LF! This time we're honoring Jennifer Statham!
She has been one of the MOST consistent and hardworking members at LF for the passed year. She has a such positive attitude, a radiant smile, and her willingness to try all the advanced material Coach Jen Edwards throws her way is truly inspiring. Keep up the amazing work! Your energy is contagious, and we feel LUCK to have you as a part of our Limitless Family!
"My name is Jennifer Statham. I started my fitness journey with Jen a year ago and have never felt better. I have struggled with my weight and health since I was 19. I have always started fad diets and tried to workout on my own and nothing seemed to work. I was always left with minimal results and a strong sense of failure. I made the decision to get help and that's when I found Jen and Limitless Fitness. Jen has given me the motivation to keep going even when things are tough. Jen has worked harder to help me when I'm feeling like I hit a wall. She keeps me motivated to reach my goals. I never thought in almost 20 years of struggling that I would ever be this close to reaching my goals and I have Jen and the team at Limitless Fitness to thank for that."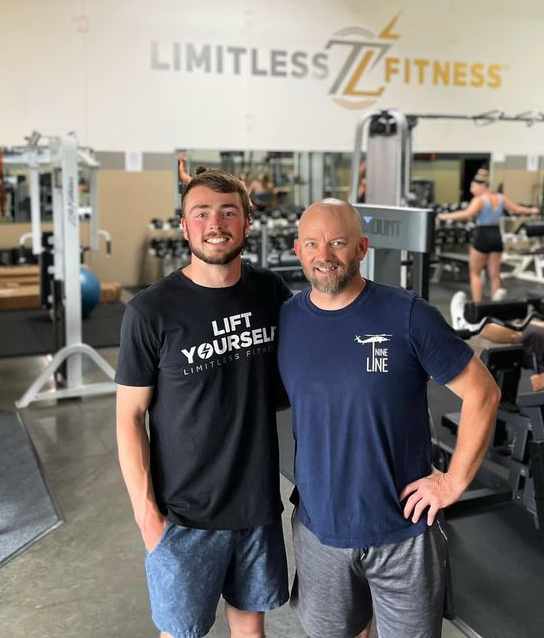 Member of the Moment for June 2022 – Mike Meyer
This month we honor Mike Meyer. Mike embarked upon his fitness journey a little over a year ago with Colton, and the two of them have accomplished a lot together. Mike just keeps shedding off the years, and feeling more like his younger self as he continues to work his butt off in the gym. Much respect to you, Mike. Keep up the awesome work!
Mike: "When I turned 50 I decided that I wanted to be in better shape. I knew that I needed to keep my flexibility and improve my core strength. I turned to Colton and Limitless Fitness because I trusted them. I knew that Colton would take care of me and really listened to what I needed. I began this journey looking to be in better physical shape and it turned into mental well being as well. Fitness to me means Freedom. Freedom of movement, freedom of stress relief and freedom from self esteem issues. If you are looking for a place to improve yourself, Limitless Fitness will not only help you with that, they will actually care about your journey. Thank you Limitless Fitness and especially Colton Wood for helping my body and my mind."
Colton: "Thank you, Mike, for giving me the opportunity to be able to train you. His work ethic, positive attitude, and the willingness to accomplish the crazy movements I throw at him. Makes me a better person every time I see him. From the physical to the mental side of fitness, Mike has endured and overcome many stresses over these years. I am so proud of the journey you have pushed through. You're killing it!"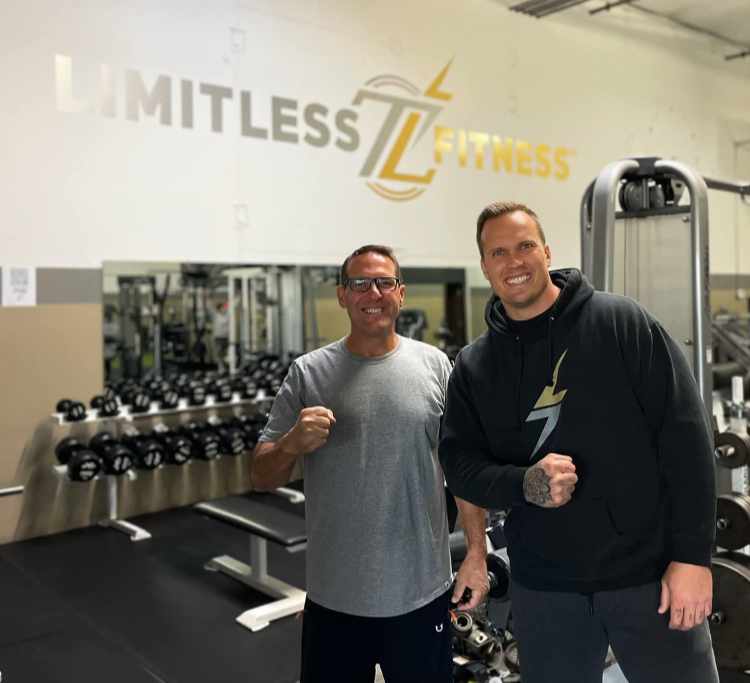 Member of the Moment for May 2022 – Gary Sewell
This month, we celebrate and honor our LF member, Gary Sewell.
Not too many people share the same devotion and drive when it comes to the betterment of one's physical and mental integrity. We respect and notice your tenacity! Keep living that limitless life, Gary!
"Thank you Matthew and Courtney and the Limitless Fitness Staff for the welcoming environment, in which I have been able to participate in regaining a mindset of health and wellness.
After coming home to Nevada County in September 2021, I found myself in a vulnerable state of mind. The transitions of the past couple years have been a struggle. My faith has been of utmost importance in the discovery of small steps towards change. Through a synchronistic series of events, I have found new beginnings in this community.
The Limitless Fitness 30 Day Challenge was a pivotal moment in my passion to become healthy and fit.
I have a history of personal injuries and PTSD that have greatly inhibited my well-being. I have learned, since coming to Limitless Fitness, that the information provided on their community board was instrumental in helping me make necessary changes to my diet and lifestyle. In the last three months I have reduced chronic pain, lost weight, and have achieved an overall sense of wellness.
The expertise and knowledge of the staff has been invaluable, and I look forward to my future journey of health and well-being."
-Gary Sewell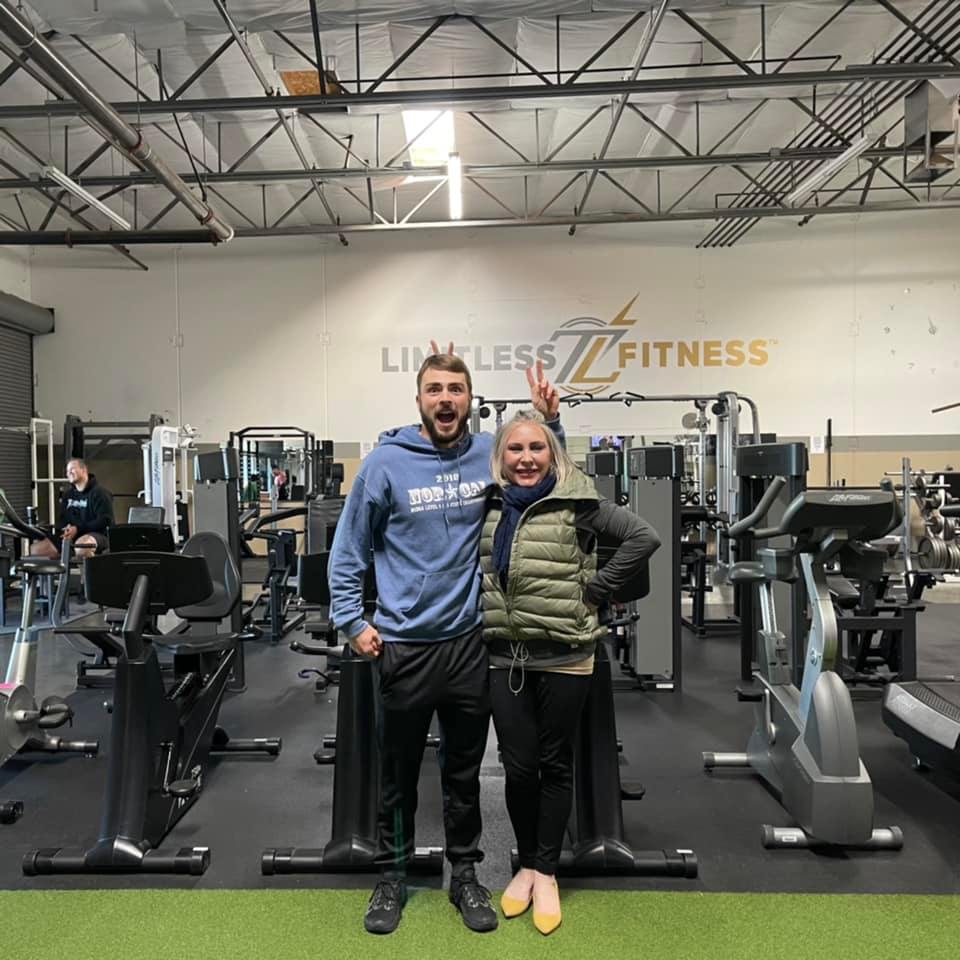 2022's first Member of the Moment! Congratulations to Margie!!!
Margie is a fellow healer of sorts and has been working with Nevada County as a wonderful esthetician – many know her as the beautiful face behind Reflections Skin Oasis! Since she started, she has advanced greatly in both strength and overall stability! She's become a master of the BOSU, and is such a joy to have on the team.
Margie: "Go Coach Colton! Twice a week for seven months, I have been greeted with a smile on his face, and a personalized fitness program just for my body's needs. I am thrilled with my progress, my workouts, and the people I am surrounded by at Limitless Fitness. Thank you, Colton, Courtney, and Matt for my new body and attitude."
Colton Wood: "Margie came to me back in April. She has been an absolute pleasure to work with. She is a wonderful, hardworking determined person. She has made profound progress throughout our months together. It's been a great journey. I've loved watching how much progress you make month to month. I cannot wait to see what the future has in store for her. Amazing job Margie!"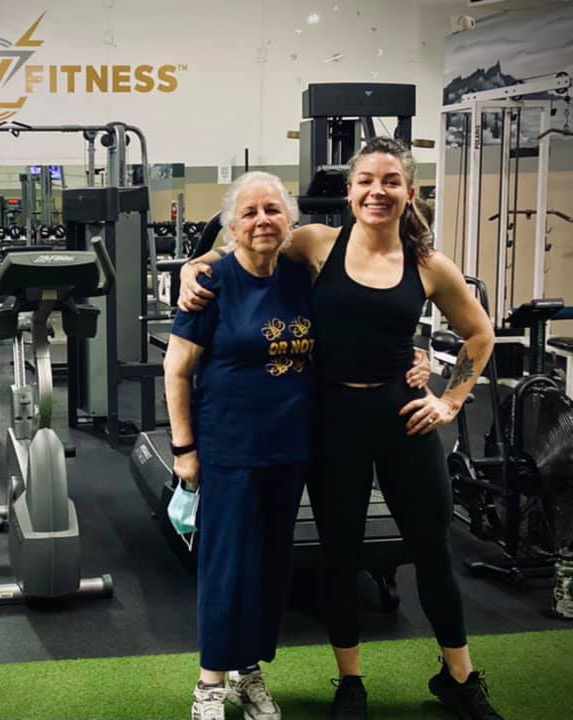 Alright, Team Limitless! This month we are honoring Donna Switzer as our member of the moment! It's been a joy watching her achieve her goals and build that confidence! She truly embraces the limitless culture!
"My name is Donna Switzer, age 73. I was sharing with a close friend that I am now pre-diabetic and was thinking out loud about ways to improve my health. I was already on a nutrition program, but wanted to kick my exercise up a notch to gain strength, flexibility as well as lose weight. My friend highly recommended Limitless Fitness, so I decided to check it out. Courtney, Matt and the overall friendly and positive atmosphere impressed me and I joined that very day.
Jen was kind enough to introduce me to the gym equipment, and after asking me what my goals were, suggested some exercises to get me going. I started seeing results, and a few weeks later I asked Jen if she would be available for Personal Training. Jen has nurtured, supported and encouraged me throughout my training with her. She has a way of listening and asking just the right questions and tweaking my workouts for optimum benefit and results. With Jen's guidance and our senses of humor, I've done exercises that, at my age, I never dreamed possible. My outlook on life and aging has greatly improved since joining back in July. I'm stronger, more flexible and amazed at how good it feels to move and feel more confident with each step."
Congrats to October's Member of the Moment: Andrew Davis!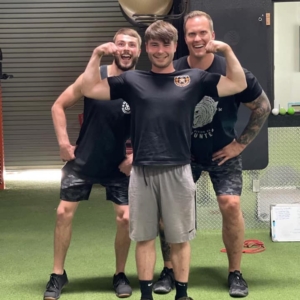 For October, we're celebrating this extremely hard working and devoted individual, Andrew Davis. Andrew initially came to us for our 24hr availability. Very soon after joining, he became hooked! Utilizing all the resources Limitless has to offer, he began formulating "2 a day" routines, and transformed his body and mind. He has earned so much progress since stepping through our door and evolved so much as a person and young man. Much respect and love to you, brother. Keep inspiring us all!
Andrew: Before coming to Limitless I needed a gym that allowed me to come in at odd hours because I worked night shifts, and this gym being open 24 hours offered me exactly what I needed. Over time many people noticed my dedication, and it kept me very motivated. Whenever I had any kind of inquiry, Matt, Courtney, Colton, and Jen never had any problems answering any of my questions. This gym was perfect for someone like me who was looking to get serious about getting my body right and feeling good about the effort I put into the day!
Congrats to September's Member of the Moment: Michele Appleby!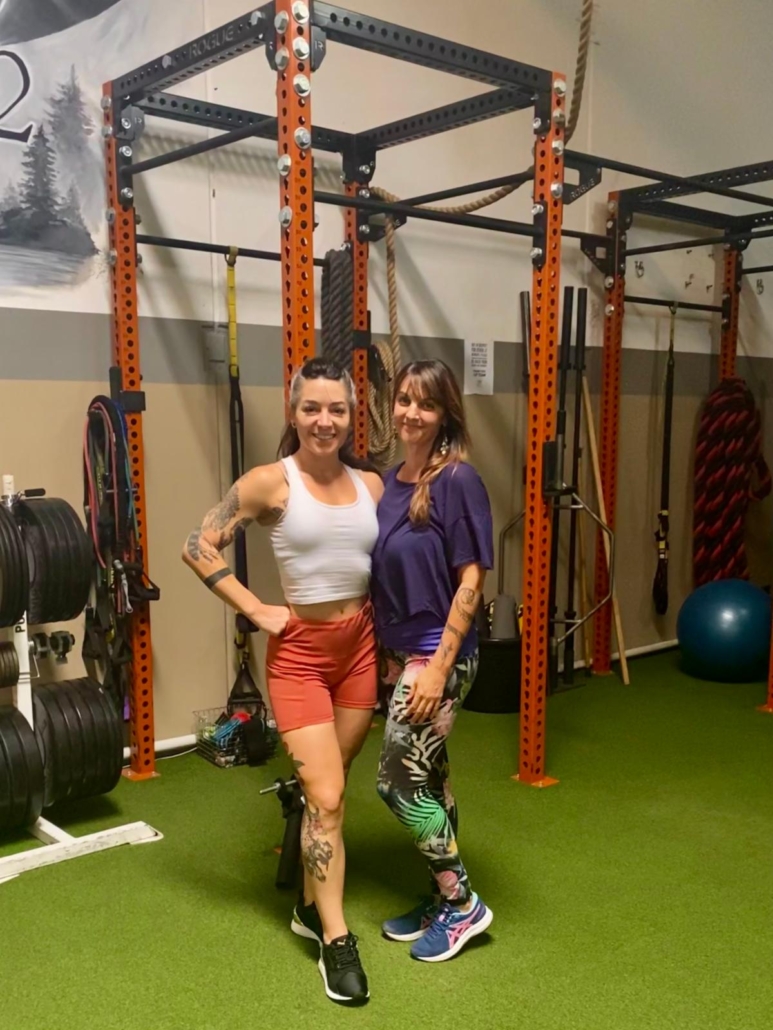 Michele has been consistent with her training for months now. Her commitment to her fitness inspires me every week! We've reached her first set of goals: feel stronger, move functionally, get out of pain, and develop healthy habits and routines. Now it's time to set new goals. We're about to take Michele's fitness to a whole new level! Great job, girl!
-Coach Jen
I really enjoy working out at Limitless. Everyone there is really nice and it's a good atmosphere. I've loved training with Jen. She keeps the workouts new and fun, which helps me stay inspired and motivated to go on a regular basis! Thanks guys!!!
-Michele
Meet our LIMITLESS June Co-Members of the Moment, Dana and Ava!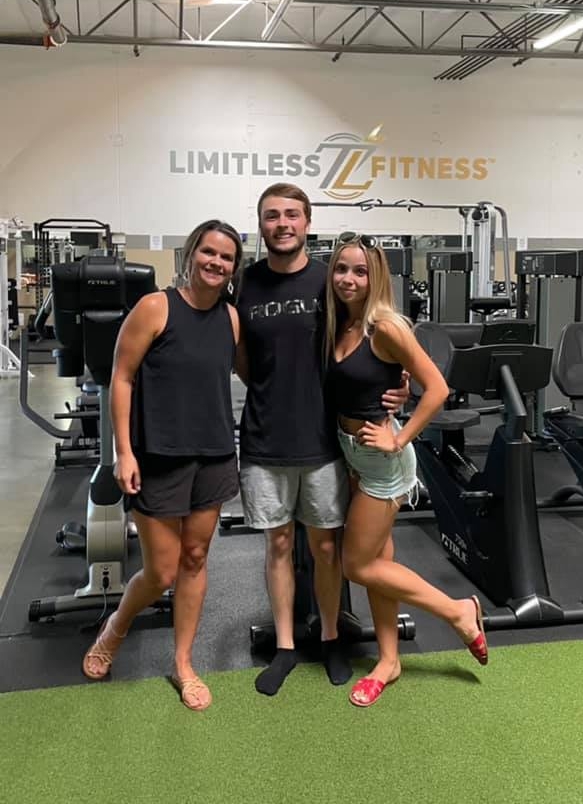 "Why limitless fitness? Matt and Courtney have created a vibe that feels inviting and comfortable, which definitely keeps me coming back. They both are genuine and tuned in to every member in their gym, as if they are family. Its almost as if Courtney feels my energy and knows the right times to check in with me. And not only about fitness but about how things are going in my everyday crazy life.
My reason for fitness is of course my girls but also Colton. He's an amazing personal trainer who truly cares about my overall well being as well as my family's. One phrase to sum up Colton, Ohana! (nobody's left behind)
Fitness is teaching me most about self care. I'm learning that when I take a little time to fill up my tank, I can keep showing up for my family and friends. I can show up for my people with more strength and energy, as well as a better mind set. It's been a process for sure but I'm here for it. It's no longer a have to, it's I get to workout and train with my friend Colton!!" – Dana
"I am soooo thankful for limitless and everything it has given me. Everyone here has really helped me become the best version of myself and I couldn't be more lucky! Fitness has been something that has helped me through a lot and been a perfect constant in my life. I know I can always count on the gym!" – Ava
And Dana, we couldn't agree more… Limitless Ohana!
Meet our LIMITLESS April Member of the Moment, Katie!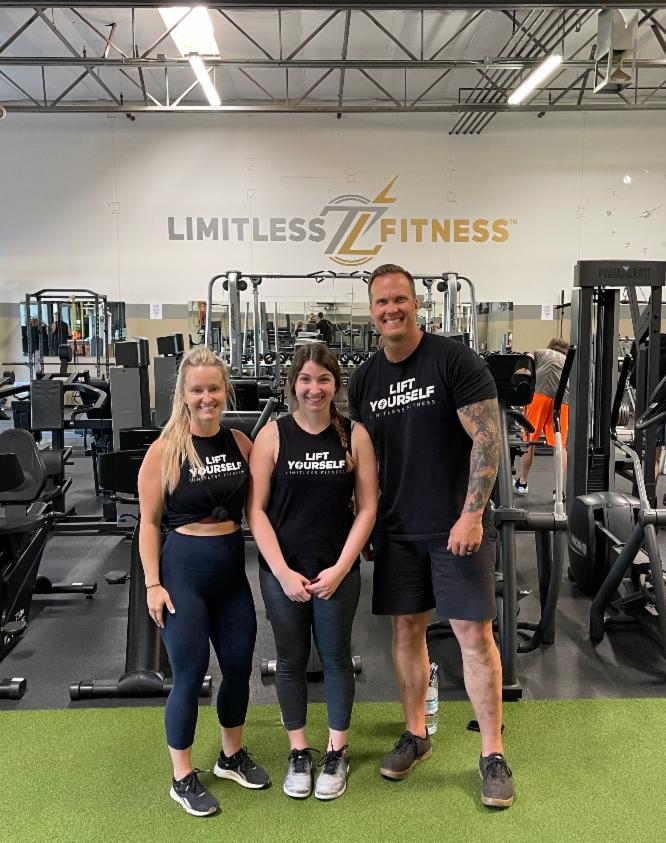 I'm Katie Ormsby, and my fitness journey began about six years ago when I started training with Courtney. At first I thought 'fitness' was about being a certain number on the scale, but it's way more than that.
My journey has brought me to a place where I focus more on using the gym as an escape from life. It's my favorite way to start the day off by finishing a great workout and feeling stronger each time.
My advice to any beginner is to find a workout buddy, a trainer, a workout class, or some way to incorporate FUN into your workout. It will help you show up and achieve any fitness goal you might have.
You're a pillar to the LF family, Katie! Thank you for sharing your journey with us, and living limitless! Much Love And Respect!
-LF Team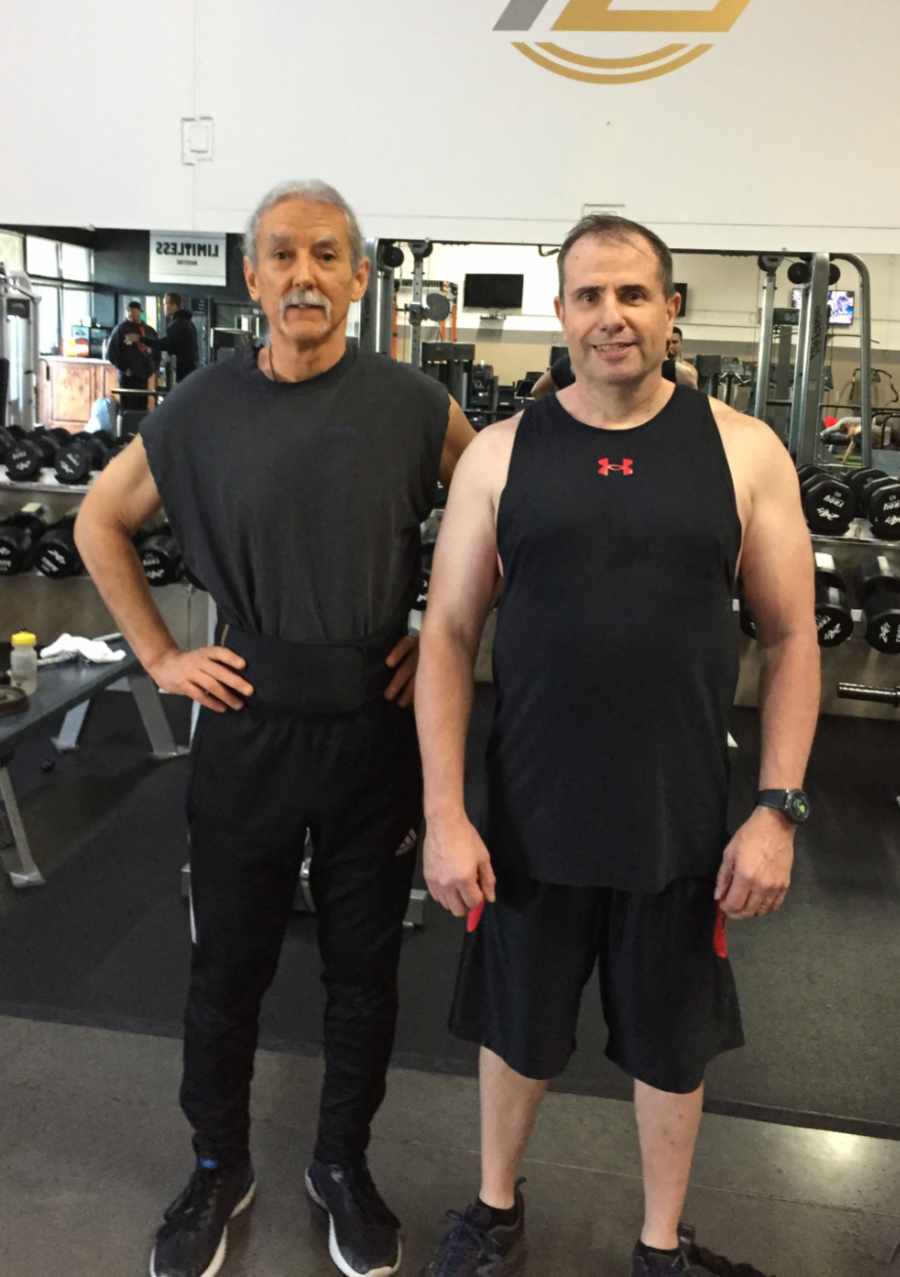 Meet our LIMITLESS April Member of the Moment, Stan!
He is a wonderful family man and a dedicated husband and father. We couldn't be more proud to support him and his fitness journey!
I have been a on and off Gym Rat for years. Started coming to Limitless Fitness when Matt & Courtney took ownership. They have put together a great team of trainers.
I have trained with Matt, Colton, and I will be training with Tony soon. Each trainer has their own style and expertise. I work on strength, posture, balance, and agility. My goals are being fit for life; physically and mentally.
I love the positive vibe at this Gym.
-Stan Burkhart
Here's to celebrating, Jessica, March's member of the moment!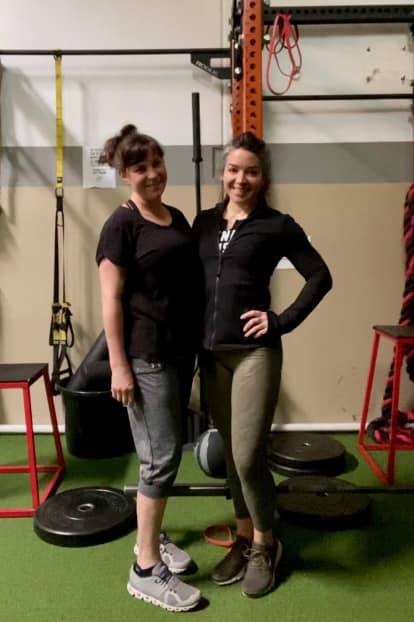 It's been a privilege having you join the Limitless Family! Your accomplishments have been inspiring to us all! Keep up the amazing work! You and @missjen have been kicking ass!
I started personal training in September while recovering from a badly broken wrist requiring surgery and a new diagnosis of an autoimmune disease that was wreaking havoc on my body. I was a mess. I was incredibly weak and afraid I wouldn't be able to resume my duties as a registered nurse. Starting personal training was one of the best decisions I've made in my life. Jen worked with my limitations and helped my overcome them.
I've almost fully recovered from the fracture and am managing my autoimmune disease well. I continue to work with Jen 3 times per week and I LOVE it! I feel strong capable and grateful for the work we've put in together! I love the fam at Limitless and can't say enough good things about the vibe there and the role it's played in my recovery.
-Jessica
Meet our LIMITLESS February Member of the Moment, Colby!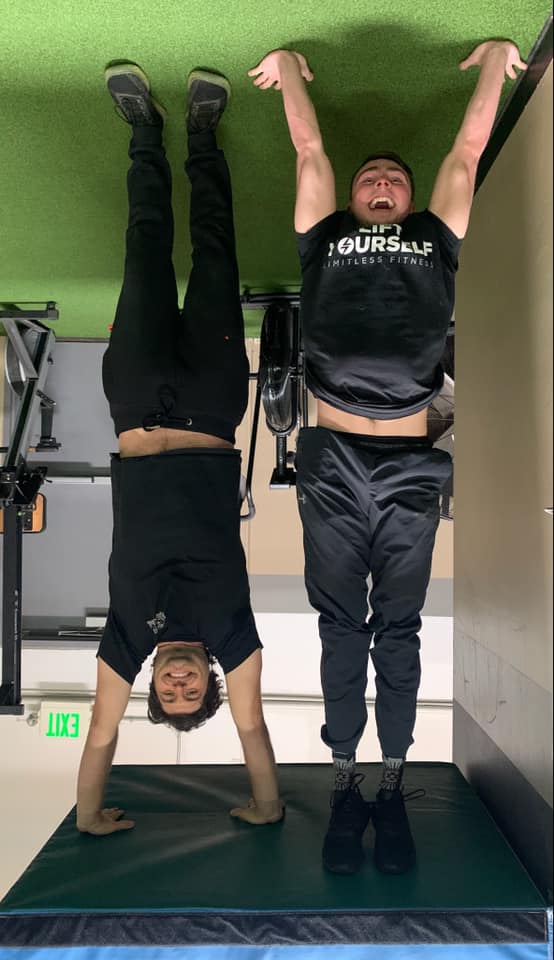 "My most recent fitness journey has been in hand balancing. I have dabbled in handstand training for the last 10+ years and never been able to reach the strength and control needed to be consistent. I was never able to reach my goal holding a 30 sec hand stand. So I finally decided to quit! I decided to quit dabbling and actually train seriously. Colton has helped guide me through this process with intelligently designed sessions that have me feeling like I took a huge step of progress every time I walk out of the gym.
I am now seconds away from my goal. The keys to a successful fitness journey are 2 simple ingredients: 1) Enjoy doing it. Moving your body feels good and is fun, if you don't find ways to do it that are enjoyable for you you won't be able to make it work in the long term. 2) Make it a non-negotiable part of your life. It is by far the most valuable thing you can do for your body. Don't make excuses, stop dabbling, be consistent, make it a priority, and make it happen."
Colby, we have watched your progress and we are so happy for you! Way to be an inspiration to others – there is no SINNGLE form of movement or strength training that is "better" than another. What a way to be LIMITLESS!
Meet Ken, our January 2021 Member of the Moment!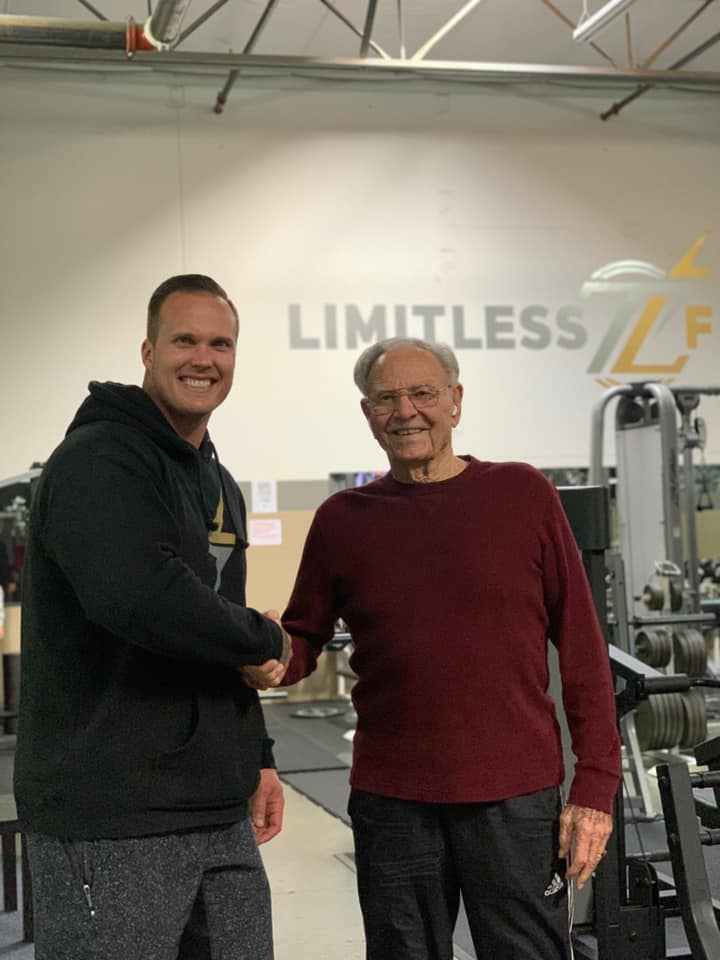 "My name is Ken Mann, age 90. I was asked by Matt and Courtney, why I do fitness? As a business man/contractor I always stayed active. I felt normal activity was not enough and I took up running. For 57 years I ran early mornings, 2 miles at 8-10 minute miles, five to six days a week. At the age of 80, I had a widow maker heart attack. I lost forty percent function of my heart. The doctor said to do some exercise.
After two years, I knew I was going downhill. I joined a gym in an effort to get my health back.
At the age of 85, I injured my back. I planned on an operation, but first the doctor wanted me to do physical therapy. While starting therapy I joined this gym. With a program from physical therapy, and help from Matt and Courtney, I have improved!
Everyday at home I do forty minutes of floor stretches. At the gym I do forty-five minutes of a routine, 4 to 5 days a week. I also practice moderation on the following: proper food, moderate alcohol, physical fitness, plenty of sleep and drink water. Above all you must have mental strength to do it. Matt and Courtney, my answer to your question is that quality of life requires fitness and dedication."
We couldn't be more proud of Ken, and he is a true example of what it means to be LIMITLESS! We are better for knowing this man. Cheers to you, Ken! Thank you for being a great first member of the month for the New Year! We can't wait to see what 2021 has in store for you.